OPENING – Thursday, September 12, 7-9pm
Appearing From Nowhere – a solo exhibition of new large and medium scale digital artworks by Anishinabe artist, Michael Couchie. Couchie's work is featured in many regional art collections (NBRHC and Redpath collections) and he has been showing his work since the 1980's. The current body of work is the result of 17 years of intensive research and practice incorporating simple drawings and found imagery into multi-layered, digital images that, almost subliminally, echo of the Indigenous "Woodland" school of painting and the design explorations of Quebecois Abstract Expressionists and the Painters 11. The show runs from September 12 – November 5, 2019.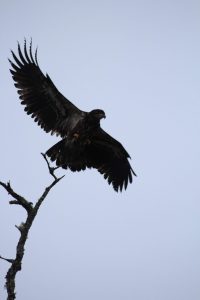 Couchie Exhibition Invite
Odyssey Guides – For this photography project, a first major exhibition for Anishinabe artist, Jesse Couchie, the artist captures the messages of activism and action that emanate from animals and nature and that tend to guide us as people. The subjects are caught in mid-flight and in that millisecond tell the photographer something about her relationship to her environment and to her future. September 12 – November 5, 2019.
Respect for Earth – a group exhibition led by mixed media artist, storyteller and painter, Sarah Carlin-Ball. The artwork will reflect the title and reflect on our relationships to and with nature. NOVAH will organize performances, readings and screenings around this major exhibition. May 4 – June 15, 2019.
National Aboriginal Days Pop-UP Exhibition – a group exhibition, guest curated by Jesse Couchie and featuring Indigenous artists from across the Nipissing region.
Lost and Found Art – a fundraiser for NRCC and ARCCO  including works on recycled wood and found objects. Over 100 artists will donate works that address themes of regeneration and repurposing. July 17-20, 2019
Mythologies – a solo exhibition by North Bay architect and artist, Manfred May. Best known for his work on the circular church at Chi-giing, Manitoulin Island, May has worked as a stonecarver for six decades. (Not on site) Jul. 6- Jul. 28, 2019.
Appearing From Nowhere – a solo exhibition by digital artist, Michael Couchie. This deeply spiritual and uniquely abstract show will examine themes of aesthetics in digital art and the ways in which Indigenous artists are creating visual art using the computer. Sept 7 – Oct. 12
Masque Parade – a group exhibition of masks from many cultures are made especially for North Bay Culture Days, 2019. This exhibition includes performances, outdoor events, workshops, etc. Sept 25 – Sept. 30
The Archean Cauldron  – a multi-media exhibition and event focusing on the spiritual qualities of Mt. Chaudron, east of Kirkland Lake, Ontario. This on-site event featuring performance, sound, spoken word and video elements will be recorded and re-presented at NOVAH in October, 2019.
Russell Noganosh (Sixties Scoop Survivor): Full Circle, My Healing Journey – an exhibition of works by Sundridge area artist, Russell Noganosh. The exhibit includes images and sculptures on the theme of spiritual healing, especially to do with abuses suffered during the sixties by the artist. October 15th – November 14th, 2019
Landscapes and Stories – Barry Burniston – Paintings and Possibly Outdoor installation – November 15th – December 15th, 2019.
In Transition – A major solo exhibition from North Bay painter and sculptor, Jurgen Mohr. This series of mainly abstract works will focus on semiotics and the power of the personal symbol to communicate emotions feelings and concepts. The exhibition will include paintings and possibly outdoor installation. November 15th – December 15th
Benjamin Chee Chee and Hugh McKenzie – an exhibition organized by Temiskaming Art Gallery including a mini-retrospective of this important Cree Nation artist's works and a workshop and exhibition of works by his friend and fellow artist, Hugh McKenzie
Christmas Black and White Show – a group exhibition and fundraiser challenging artists to present new works that incorporate tones and shades of blacks and whites.
Abandoned: History and Place Across Northern Ontario, a group exhibition co-curated by Dermot Wilson and Gerry Gooderham. This exhibition will feature local and regional photographers who focus their practice on abandoned sites across Ontario. January 1-30, 2020