NOVAH Gallery presents: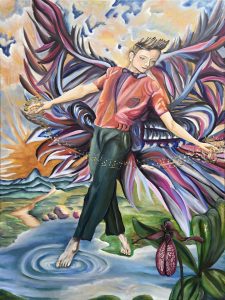 Tarot Interpreted opens for viewing at NOVAH Gallery, 176 Lakeshore Drive in North Bay on June 3. Our Grand Opening for the exhibition, featuring on site Tarot card readings by Stephanie Vandoleweerd, short artists talks from the contributing visit artists and a documented tour of the exhibit will happen on Saturday, June 17th. The event on that day starts at 1pm. Janet Hendershot is a well-known painter and mixed media artist living in Toronto (http://www.jhendershotstudios.com). Cesar Forero is a multi-disciplinary artist working in: performance, ceramics, installation art, mixed media and paint. He resides just outside of Kirkland Lake, Ontario (http://cesarforero.com/cesar).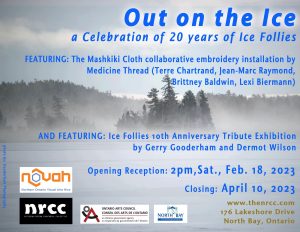 At NRCC we are excited to announce that our current exhibition of new works from two Northern Ontario based Artists collectives, Out on the Ice will be installed in early February at NOVAH Gallery, 176 Lakeshore Drive in North Bay, Ontario.  The two exhibitions are intended to commemorate the two decade long history of North Bay's well-known site-specific Installation and Performance Festival that happens every two years out on the ice of Lake Nipissing. The exhibition will record the events this year (organized by: Aanmitaagzi (Nipissing First Nation), Whitewater Gallery and the Near North Mobile Media Lab) and remind our NOVAH audiences and artists of the Ice Follies site-specific events. The exhibit will echo the events and keep the show in the public eye under mid-April.
The exhibit includes a fabric art installation created especially for the Out on the Ice exhibition by a new collective of artists called: Medicine Thread. The Mashkiki Cloth Project begins here at NOVAH Gallery and will move to locations across the province and country in the weeks and months to come.
The Ice Follies 10th Anniversary Tribute exhibition includes a selection of photographs and videos by Temagami-area photographic artist, Gerry Gooderham. The exhibit will attempt capture the process of creating these works in Nature, and the community spirit that descends upon the lake during the show.
Mashkiki or Medicine cloth is two 10ft lengths of cotton muslin, embroidered with white cotton floss, and imbued with plant based medicines. Plant based medicines and the knowledge thereof has been undergoing a revival. But for Indigenous people, we have always remembered these medicines and their purpose in our lives.
We have relationships to plants which came here as invasives and are now in balance with all else, finding their purpose, and us finding them within our purposes as well. In addition to the obvious ice symbolism, his cloth of white with white embroidery pays tribute to several aspects of the modern revival of traditions and living
histories.
The cloth is white, and the foss is white. These knowledges went undercover for many, many years, much like how snow blankets the landscape and hides the plants. But just like the snow over a landscape, a blanket does not mean they have fallen out of existence, just like the knowledge went undercover and never out of existence. Plant medicine and needlework both have a relationship in the persecution of mother-knowledge that was called "witchcraft" throughout Europe, with that mentality existing and encouraging ongoing genocides of traditional peoples throughout the world within the colonial project. The cloth is imbued with many of these medicines between the floss and the cloth with the fragrance as part of the key identifiers of species. This is pertinent in how we come to identify plants on the land – we use all of our
senses but scent is a key for proper identifcation of similar species.

At NRCC we are excited to announce that our current exhibition of new works from Polish artists will be held over until November 15, 2022.
Please visit the show Monday to Saturday during normal business hours.
The exhibit includes a selection of new works by Polish artists Teresa Zebrowska and Jacek Paciezny. Curated by Leszek Zuber Zebrowski, this exhibition focuses on artists who are applying unique processes in their examinations of the landscape.
Zebrowska's work employs corrosives to build abstractions of unique beauty that allow mysterious shapes, forms and messages to appear. Hers is a highly colour sensitive gaze that sees through a whole new photographic lense.
Jacek Paciezny's paintings on paper borrow from a tradition of slightly expressive colour field paintings, but situtates these abstracted, minimized landscapes along busy highways and at truck stops. One feels the dynamism of the place that is contrasted by the moods created by Paciezny, which seem to be fogbound and almost stagnant, as if these arePost-capitalist moments and that these tools of industry are abandoned.
Gallery 222 presents: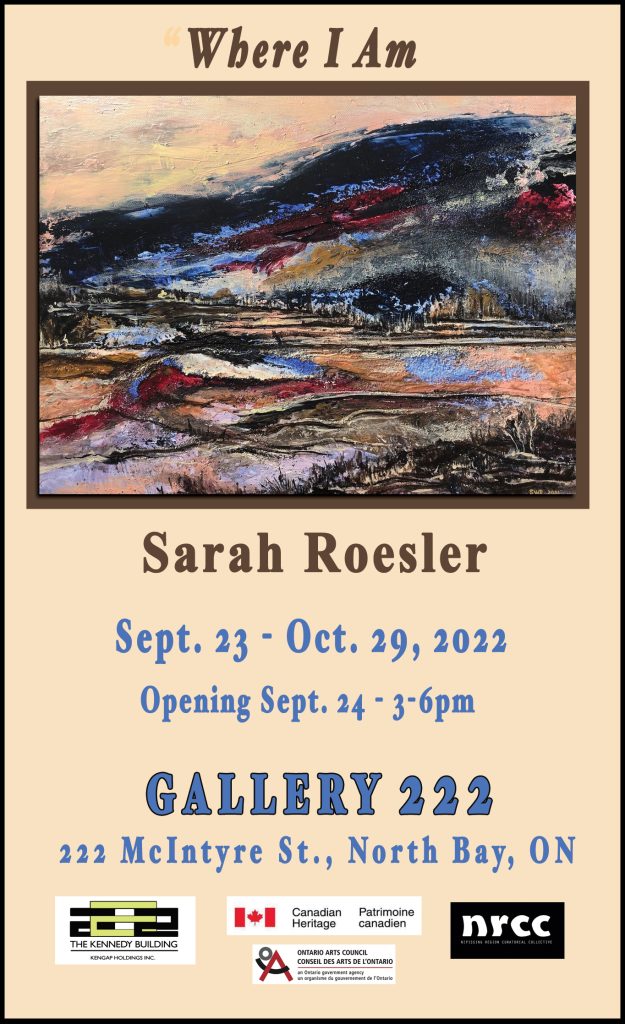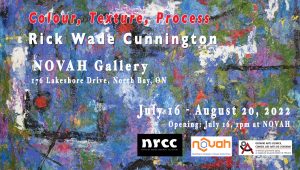 Gallery 222 presents: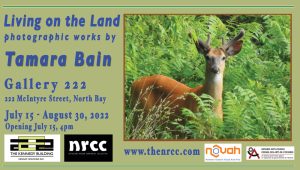 NOVAH Gallery presents: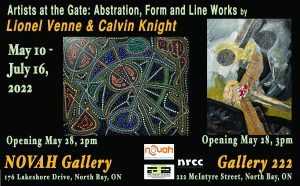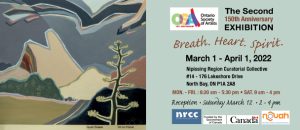 Yassified – Mixed Media Artworks by James Fowler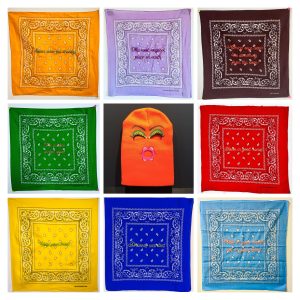 A NOVAH Gallery SOLO EXHIBITION of Contemporary Visual Artworks by North Bay/Toronto artist, James Fowler
JOIN US for James' OPENING – 1pm, Jan. 22, 2022 – 176 Lakeshore Drive, North Bay, ON
Yassified is an ongoing project by Canadian artist James Fowler which looks at various aspects of contemporary culture through a queer lens. It takes its name from a social media term, coined in 2021, which means 'to apply beautification filters to an image' and has since been coopted by the queer community to describe interventions of straight cultural artifacts, fashion and practices, using queer aesthetics. To date the exhibition, Yassified, includes two bodies of artwork: 'Hunty' and 'BARCODE.'
Fowler is proud to return to North Bay, his hometown, to present this new work for the first time at NOVAH Gallery. The exhibition runs from January 22 to February 18, 2022.
On the surface both bodies of work seem light, bright, decorative and playful, but the messages underlying these works bring to mind much weightier concerns. By applying queer culture aesthetics, these interventions are meant to subvert and disrupt hetero-normative expectations, particularly for men. As a whole, Yassified seeks out places where toxic masculinity is fostered (sports, business, military, religion), takes up space within these contexts, and asks the question: 'If we release men from the pervasive and toxic cultural identifiers, objects, behaviours and rules, can we create an opportunity for changing the discourse within that void? The show further questions, what are our roles and responsibilities in interrogating and dismantling the patriarchy.
HUNTY
Hunty is a series of bright orange hunting balaclavas hand embellished with paint and glitter to resemble the make-up of drag queens and pop-cultural icons. They are a reflection on the toxic masculinity entrenched in hunting culture and serve as a challenge to signifiers of masculinity through cultural mapping.
The balaclava has become a symbol within activist cultures, creating safety through anonymity. The institutions that support patriarchal masculinity expect this same anonymity of men by virtue of their uniforms and peer group behavioural codes. By applying individual characteristics to each balaclava and placing them in shadow boxes lined with fabrics associated with both fashion and hunting cultures, the heteronormative masculine standard of individualism is destabilized, creating space for conversations about positive masculinity and its place in gender equality.   
BARCODE
BARCODE is a collection of 70 coloured bandannas, hand embroidered with marketing slogans and taglines from various consumer products and services. They are a cheeky critique of the corporate sponsorship of gay events and the roll that sponsorship has played in the erasure of "sex positive" aspects of gay culture.
'Flagging' has been used since the 1970's by gay men to signal their (often sexual) penchants and particularities. Coloured hankies were worn in either the left or right back pocket to signal to other gay men the wearer's wants and intentions. Known as the 'Hanky Code' each colour represented a different desire. The hanky code grew to include 60+ colours, various fabrics, and objects. While flagging had faded in popularity by the mid-nineties, the hanky code has enjoyed a recent resurgence through queer art discourse and those interested in preserving queer histories.
As the gay civil rights movement gained traction in North America, corporations owning consumer brands began leveraging Pride events to market to this new untapped market. This support, in the form of sponsorship or participation fees, comes conditionally. Most brands, concerned with their public image, want to only include family friendly versions of gay culture.
Embroidery, often used in queer themed textile and fibre art, is employed to symbolize how brands have attached their identity to gay cultural events. In response, I have subversively selected brand slogans that match each desire according to the hanky code, often with humorous outcomes.
ABOUT THE ARTIST
James Fowler's practice as a visual artist is well complimented by his curatorial pursuits and community involvement with Toronto's LGBTQ communities. He has a Bachelor of Arts degree in Film and English from York University, an early career background in photography and has maintained a full time studio practice in Toronto since 2008.
Seeing a need for visual arts programming during Toronto Pride, in 2010 James founded the 10X10 Photography Project, an annual portrait exhibition featuring ten Canadian LGBTQ photographers, and celebrating one hundred queer Canadians who have contributed to the arts. To date he has curated ten 10X10 exhibitions, produced ten photography books, worked with a hundred LGBTQ+ Canadian photographers and collectively captured 1000 portraits of Queer Canadians in the arts.
James co-curated Church Street Murals, an eleven building mural development, working with Toronto City Hall to create a legacy project for Toronto World Pride in 2014.
Fowler has produced several queer content exhibitions and events including: 'NUIT ROSE' an annual multi-venue queer art and performance festival in Toronto; 'Gaybourhood', a series of painted aerial views of international gay neighbourhoods using colour palettes of boy's toys and kid's television shows from the 1970's; 'Hunty', bridging North American hunting and drag queen cultures as part of the Intergenerational Artist residency in 2019; and Queering Space: Investigating LGBTQ+ identities through the use public and private space.
The NOVAH Gallery is an NRCC Art Programming and Presentation Project. For more information on exhibitions, Calls for Submissions and how you can get involved in Gallery events visit: www.thenrcc.com/novahgallery