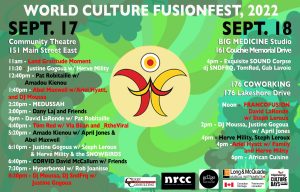 Very EXCITED to INVITE everyone to the second edition of World Culture FusionFest. Due to possible Rain on Saturday, Artistic Director, Justine Jolei Gogoua has decided to shift the party INDOORS!
We will start the concert at noon at: 151 Main Street East in downtown North Bay!!
Can't wait to hear ALL of last year's STARS AND a whole handful of new amazing ARTISTS!!